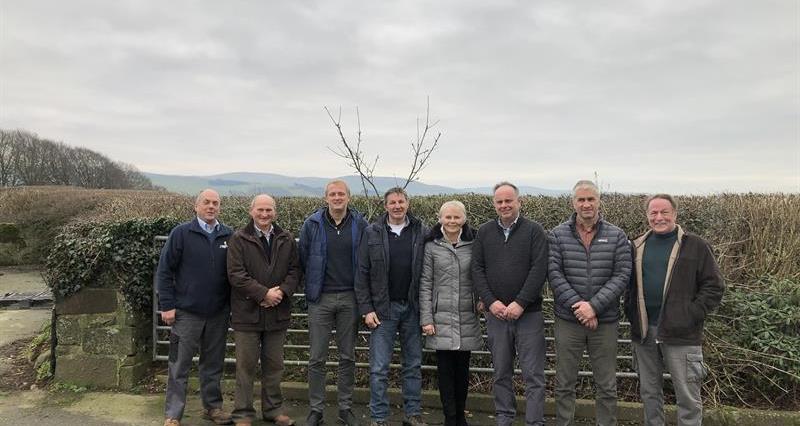 Ceredigion NFU Cymru county officeholders emphasised the importance of the agricultural sector to the county, and outlined how catastrophic a 'No deal' Brexit would be for the area in a recent on-farm meeting with the local MP, Ben Lake.
The meeting was hosted by Ceredigion NFU Cymru County Chairman, Aled Lewis, on his farm in Tregaron and speaking after the meeting, he said: "It's clear that a 'No deal' Brexit would be catastrophic for Ceredigion farmers, and all of the elected politicians in Westminster need to work together to avoid a scenario where the UK crashes out of the EU without having a trade agreement in place that allows us to trade as freely as possible with the EU27.
"Around a third of our lamb crop in Wales is bound for export, with over 90% of Welsh sheep meat exports going to the EU. If we crash out of the EU without any trade agreement and be required to trade under WTO rules, then our lamb exports would face tariff rates in excess of 45%. These tariffs would effectively make our lamb exports uncompetitive and that is a scary thought for me and many other local sheep farmers who are gearing up for lambing season over the next couple of months."
"A No Deal Brexit would also be hugely damaging to our beef exports with WTO rules effectively meaning tariff rates of between 48% and 84%, depending on the cut. In addition to this, as a third country, our beef and lamb will face significant regulatory barriers when it comes to entering the EU27, something which will further erode our competitive position. It's therefore clear to see that the potential loss of our largest and nearest export market in the EU will have hugely damaging consequences for the farming and food sector in Wales."
Mr Lewis concluded: "I'm very grateful to Ben Lake for meeting with us and for listening to our concerns. It's clear that our future trading relationship with the EU will be critical to the future prospects of the Welsh farming and food industries, and to the vitality and vibrancy of our rural communities, and a catastrophic 'No deal' scenario must be avoided. It's no exaggeration to say that the decisions that will be made in Westminster over the next few weeks and months will have a huge impact on the future of farming families in Ceredigion and throughout the whole of Wales, and our politicians have to get this right."