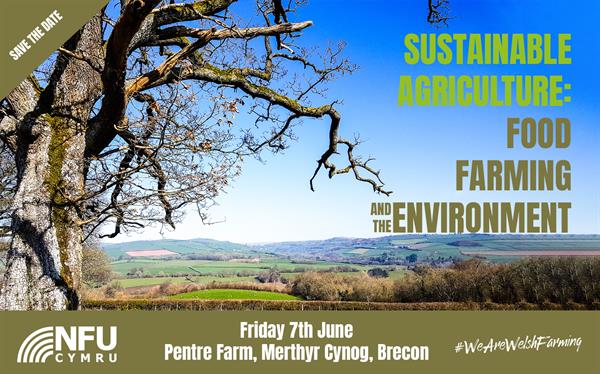 NFU Cymru is to host an on-farm environment conference this summer showcasing Welsh farmers' crucial role in producing high quality food whilst protecting, maintaining and enhancing the farmed environment.
The Sustainable Agriculture: Food, Farming and the Environment conference will be hosted at NFU Cymru President John Davies' Pentre Farm, near Brecon, on Friday 7th June and aims to 'start a new conversation' about food, farming and the environment.
Following an address from Natural Resources Wales Interim Chair Sir David Henshaw, the NFU Cymru event will feature two panel discussions either side of a networking lunch. The first session will be comprised of representatives from academia, retail and environmental organisations. The afternoon session will involve a panel of farmers and bring to life the work undertaken on Welsh farms to enhance soils, water, biodiversity, air quality and our iconic Welsh landscape.
NFU Cymru President John Davies said: "Farming plays a vital role in protecting and enhancing the Welsh landscape and environment. In the future, as Welsh farmers we want to play our part in rising to governments' wider challenge, and leave the environment in a better condition than we found it. We want the conference to mark the start of a new conversation, one that acknowledges the excellent work already being carried by environmentally-conscious farmers across Wales, as well as identifying how farmers can continue to improve their businesses for the benefit of our soils, nature, landscapes and environment in the future.
"We very much hope this on-farm event provides a positive and constructive forum for all interested parties to come together to discuss an important subject in which we all hold a vested interest. The bottom line is that farm businesses need to be productive and profitable to be able to continue to deliver the environmental benefits we all want to see."
Further details about the NFU Cymru Sustainable Agriculture: Food, Farming and the Environment conference will be released in due course. If you would like to attend the conference at Pentre Farm, Merthyr Cynog, Brecon on Friday 7th June please contact the NFU Cymru office on 01982 554200 or email bmZ1LmN5bXJ1QG5mdS5vcmcudWs=