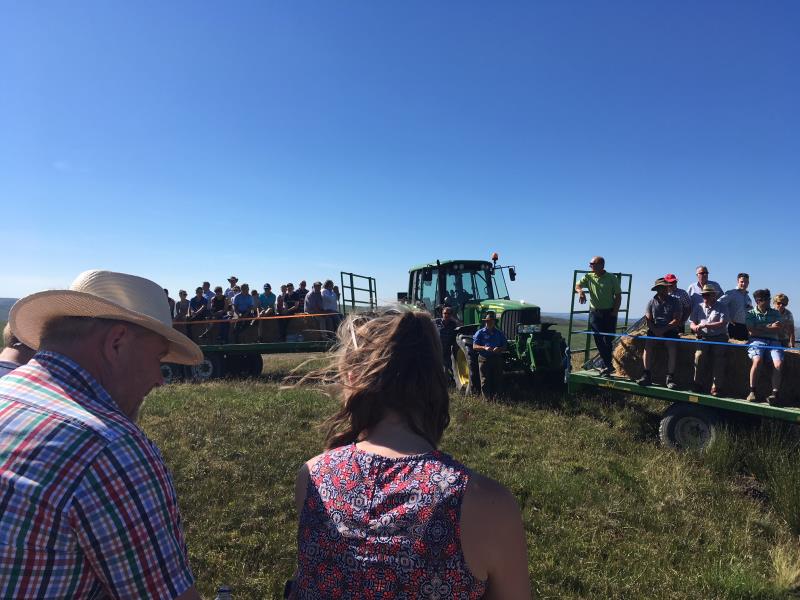 "Cattle numbers on our farm have been reduced by a third as a result of bovine TB hitting us hard and plaguing us for over 10 years now, and unless Government take a proactive approach to eradicating the disease from all sources of infection, I fear for the impact it will have on beef production in the area," said Robert Lewis, NFU Cymru Brecon and Radnor County Chairman at a recent tour of his farm near Rhayader.
The event hosted by the Lewis family was extremely well attended, drawing members from throughout the county to enjoy a tour of the farm and the common land where the Lewises' farm a flock of 1,100 ewes and 350 followers, together with a beef suckler herd. Local businesses that support the family farm were also present.
Mr Lewis continued: "We have a very strong community where we all help each other to gather the hill, and together we ensure a blanket treatment of the sheep against ticks, lice and scab. All of the fencing work and hedgerow maintenance on the farm is carried out by local contractors, who take great pride in their work. It is a prominent message that a profitable farming business is vital to allow rural communities to thrive, ensuring traditional farming skills are not lost, and to maintain Wales' reputation as a chosen tourism destination."
Most notable during the tour was Mr Lewis' commitment to new techniques. He concluded: "We keep in close contact with our vets and are seeking to reduce antibiotic use in the future by using vaccines for foot rot and pneumonia. We have also taken part in grassland trials to ascertain the best performing leys to suit an upland farm. We are always willing and able to try new techniques to deliver the best end product for our customers.
"Finally, I would like to thank those who helped prepare the site and Radnor Hills for the water; together with all who attended to make the day a success. Your support is very much appreciated."