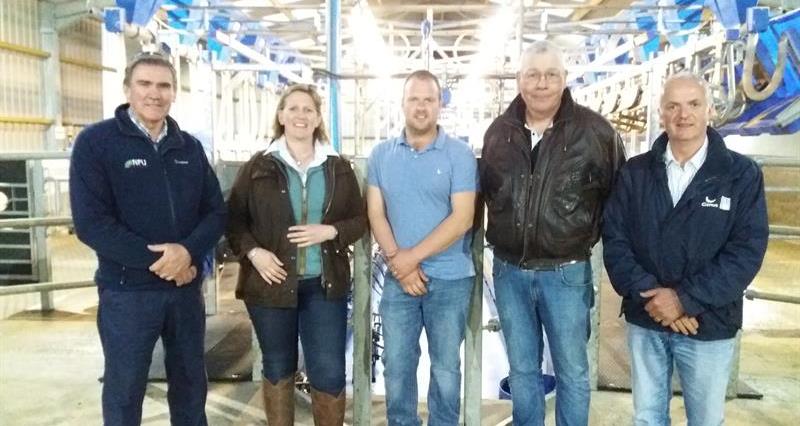 NFU Cymru Deputy President, Aled Jones, NFU Cymru Project Manager (Water Quality / Nutrient Management), Lorna Davis, host farmer Sion Hughes, Mid Gwynedd County Chairman Edwin Noble and host famer John Hughes
Dozens of NFU Cymru members took advantage of a fine May evening to visit John and Sion Hughes' farm at Ynysgain Fawr near Criccieth.
The Hugheses have developed their dairy unit over the past few years, with a great deal of work put into improving facilities at the farm. Their most recent investment is in the new milking parlour and dairy. The investment has seen their milking time reduced by over five hours per day. This time is now given to managing the herd and grasslands in order to improve the farm's efficiency.
There are now 125 cows and their followers on the farm, and the farming system ensures that all the fodder needs of the stock are met on-farm, making the milk production system entirely self-sufficient. The milk produced is transported no further than five miles to South Caernarfon Creameries, in Chwilog.
One silage pit had been filled earlier in the week when 76 acres were harvested, and the intention is to be back out in the fields cropping the next harvest in four weeks' time. Despite the ground being unusually heavy considering the farm backs onto the beach, they manage to crop four cuts of silage each season.
Lorna Davis, NFU Cymru's Water Quality and Nutrient Management Project Manager, contributed to the meeting by encouraging a discussion on the need to manage nutrients and make the most of manure and slurry produced on-farm.
With an increasing emphasis on the need to ensure water quality on farms, Lorna's input was very important, along with an opportunity to see first-hand how John and Sion have engineered the flow of water through the yards in order to ensure that water from un-stocked yards can be piped away from the slurry pit.
The obvious advantage was to reduce the amount of water in the slurry, which increased the farm's capacity to store slurry whilst also improving the quality of the slurry in the store.
Members took the opportunity to listen to NFU Cymru President John Davies, who referred to some of the main issues drawing his attention at the moment. NFU Cymru Deputy President, Aled Jones outlined the work he's doing in relation to water quality on behalf of the union.
Through the generosity of NFU Cymru Mid Gwynedd's charity trustees, members were able to enjoy a feast of local pork prepared by the company Oinc Oink.
John Davies, NFU Cymru President said: "Evenings like this are such a pleasurable part of the work I do. Being able to visit farms to see what members are doing is an education in itself, we have good farmers who are producing to the highest standards and John and Sion are certainly succeeding in doing that."
Edwin Noble, NFU Cymru Mid Gwynedd Chair added: "It's good to see so many members making the effort to come out and it is a recognition of the esteem John and Sion are held in as farmers that so many have turned out."