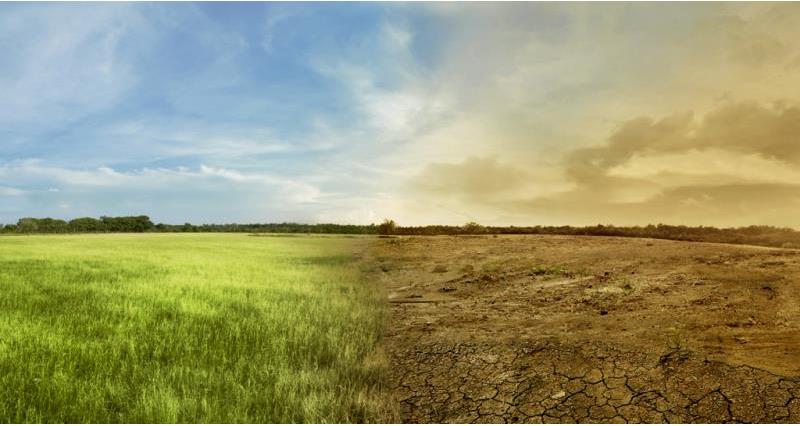 As the dry weather spell continues, NFU Cymru is collecting information and analysis from members across Wales and all farming sectors. Keeping our finger on the pulse of what's happening on farms is important in itself, but the evidence we are collecting will be reported to the meetings of Welsh Government's Agricultural Resilience Group.
Government agencies will update weather and water availability forecasts in early June, but there is little sign of much-needed rain here or elsewhere in Europe. Dry weather since late March has caused a rapid decline in some river flows.
Groundwater levels are near normal for the time of year for most sites, but soils are drier than average across Wales.
Continued low rainfall and high temperatures into the summer will result in more widespread impacts for agriculture and the environment.
Speaking about the current spell of dry weather, NFU Cymru Deputy President, Aled Jones said: "This is a challenging time for farmers, who, like all other sectors of society have been impacted by the Covid-19 crisis. Welsh farmers are proud of their role as food producers and the industries focus remains doing whatever is needed to keep the nation fed.
"Welsh farmers are also having to deal with extremities in the weather this year. After a prolonged period of rain over autumn and winter that caused significant flooding to farmland to now this extended period of dry weather, which is just beginning to have an impact on farms across Wales.
"The lack of rain has slowed grass growth at a time where growth is usually at its peak, this means that more land is required to be kept back for grazing livestock and less can be set aside for hay and silage.
"For those farmers who have already begun silage making, yields have been around average so far, the concern is that unless we see rain shortly it will have an impact on yields for the majority of farms who tend to conserve hay and silage from June onwards, and for those farmers who have already taken one cut of silage and are looking to take further cuts later on in the season.
"Growth of spring sown arable crops are also being impacted. On many farms some winter crops failed as result of the extended waterlogged conditions, these fields have now been replanted with spring sown crops and these young plants are in now in need of some significant rainfall."
Concerns from across the sectors
The overall mood within the farming community is one of concern about the extended period of dry weather that started very early in the farming calendar, but it's too early to panic. These are just some of the many issues being logged:
With temperatures forecast to soar, fire-risk is already a widespread concern.
The situation is becoming increasingly serious for the growth of rainfed grass and cereal crops across the country, made worse by the wet winter that led to the planting of more spring crops which are now struggling because of falling soil moisture levels.
The availability of water for livestock
Reduced silage yields and slow regrowth of aftermath for second cuts or grazing
Irrigated crops have benefited from full reservoirs and groundwater sources at normal levels, but the early onset of irrigation combined with falling river flows indicates that fruit and vegetable growers will need to take difficult water-scheduling choices before the end of the season.
Pig and poultry farms face potential bedding shortages from reduced availability of both straw and (due to Covid-19 related factory closures) wood shavings.
While we are not yet in a drought, and no two dry years are ever the same, it makes good sense to identify, at an early stage, issues that could arise and as we move towards the summer. Issues on our radar include the potential need for:
Abstraction licensing flexibility so that growers can, for example, share water with neighbours and fill reservoirs at any time of high river flow rather than in winter only.
Strategic planning of straw supply and demand across the straw industry, uniting the supply chain.
Flexible application of CAP greening rules and agri-environment prescriptions.
Removal of blockages in the planning system that impede the construction of more on-farm reservoirs.
At a time when the Agriculture Bill is moving through Parliament, weather-related shocks continue to expose farmers to volatile growing and market conditions. As a new domestic agricultural policy is developed, floods and drought are a reminder that we cannot and must not take food production for granted.