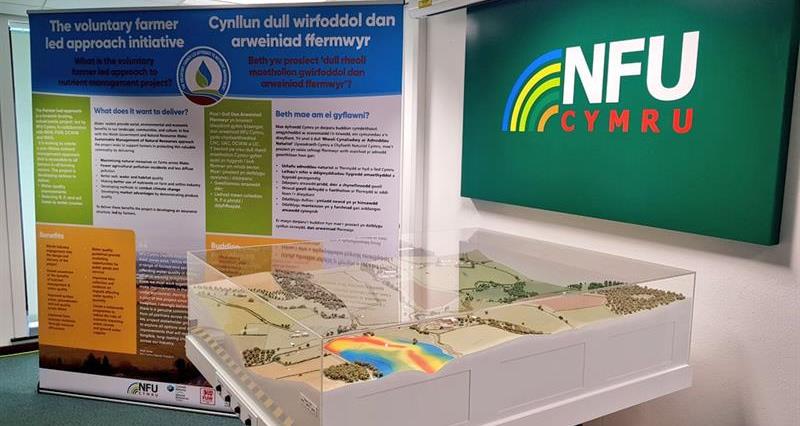 Lorna Davis, the project manager for the voluntary farmer led approach to nutrient management was on the NFU Cymru stand throughout the Royal Welsh Show, talking to farmers about the way forward for Water quality in Wales. Here's what she had to say following the event:
Following a very positive response to the 'Voluntary Farmer Led Approach to Nutrient Management' project at the Royal Welsh Show as project manager I thought I would update you on the week's events;
Firstly the farmer led approach hosted a model (pictured above) of a typical farmed catchment illustrating good and bad practices on farm with ways to manage nutrients to minimise their risks to water quality. This accompanied a water quality seminar on Wednesday to discuss 'Improving Water Quality - the way forward'.
Visitors to the stand included local and international farmers, members of NFU Cymru and FUW, Welsh Government and Natural Resources Wales to name but a few.
Discussions focused around the project approach and the benefits farmers would like to deliver, using 'earned recognition' as a way to allow farmers to deliver multiple benefits protecting and enhancing water quality through a water standard.
Looking ahead, the model display will be going to the following shows;
Vale of Glamorgan
Pembrokeshire
Anglesey
Denbigh and Flint
Meirionnydd
Usk
I look forward to meeting more members at these shows to discuss the farmer led approach in more detail. However if you do have any questions about the project and what it is looking to deliver then please get in touch: bG9ybmEuZGF2aXNAbmZ1Lm9yZy51aw==
The live stream from the water quality seminar is available below: