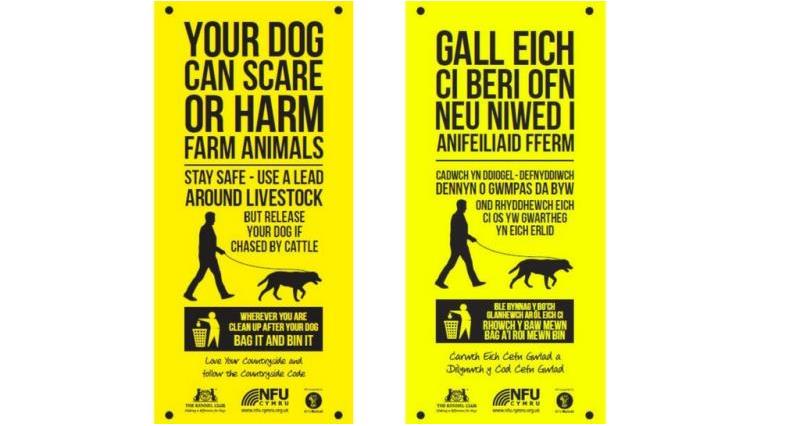 Sheep and other farm animals worth £285,000 were attacked by dogs in Wales last year
One in six owners admit their dog has escaped from home - sparking concerns that unsupervised pets are attacking livestock
The peak time for attacks is January-April during the lambing period
Leading rural insurer NFU Mutual is mounting a new campaign urging dog owners to keep their pets under control, after new figures reveal the cost of dog attacks on livestock more than doubled in Wales last year.
NFU Mutual, which insures three quarters of farmers, estimates that the total cost of livestock worrying to the UK farming industry exceeded £1.2m last year.
In Wales there was a huge rise in the cost of attacks in 2018, resulting in a massive 113% increase. The estimated total cost to Welsh agriculture was £285,000 last year.
Although new research shows more dog owners are putting their pets on leads when livestock are nearby, the insurer is increasingly concerned by reports that many attacks are being caused by dogs which have been let out in gardens, escaping and attacking sheep in neighbouring fields.
The research by NFU Mutual reveals one in six owners admitted their dog had escaped from home. However more and more people (52%) are allowing their pets to go out in the garden unaccompanied when they're not at home (up from 43% last year).
Known as livestock worrying, dog attacks on farm animals can result in horrific and often fatal injuries. Even if a dog doesn't make contact, the distress of the chase can cause sheep to die and miscarry their lambs. The peak time for attacks is from January to April, during the lambing period, which coincides with the period when families visit and stay in the countryside over the coming months.
~ ~ ~ ~ ~ ~ ~ ~ ~ ~ ~ ~
See also...
~ ~ ~ ~ ~ ~ ~ ~ ~ ~ ~ ~
According to the research, 87% of dog owners exercise their pets in the countryside, with over 60% letting them roam off the lead (down from 64% in 2018). If there is a sign warning dog owners that livestock are in a field, more people (95%) are putting their dogs on the lead - up from 90% in 2018.
The number of dog owners who said their pet had chased livestock in the past was 6%.
Most dog owners (61%) would try to stop a dog chasing a sheep in the countryside and supported measures to crack down on the problem of livestock worrying. Three quarters of dog owners said they would support heavy fines, 66% would support a ban on dogs from livestock fields during lambing season, while 57% would back laws enabling DNA testing of dogs and 42% would support owners being banned from keeping dogs if their pet had been involved in an attack.
Merfyn Roberts, a Senior Agent for NFU Mutual in North Wales, said: "While it's encouraging news that more people are putting their dog on the lead while out in the countryside, dog attacks are still at a very high level. We are receiving increasing reports of local dogs escaping from homes and attacking sheep, either because their owners do not know or do not care that their dogs are roaming wild and causing havoc.
"Thousands of sheep are being killed and horribly mutilated by dogs and we will be redoubling our efforts to raise awareness of the issue, and helping police to bring owners of dogs which attack livestock to justice."
Livestock worrying is a UK-wide issue that is being tackled on a national basis, with North Wales Police chairing a livestock offences group on behalf of Chief Constables of the UK. Along with key partners such as Government, NFU Mutual and the NFU, North Wales Police are working hard to fully understand the issues that cause an attack to occur. The group are also advocating the updating of the Dogs (Protection of Livestock Act) 1953 to reflect modern day agriculture and the powers the police require to bring offenders to justice.
PC Dave Allen, Rural Crime Officer at North Wales Police, said: "Livestock attacks are devastating affairs for all parties. Any dog of any size and any age can just suddenly attack livestock. The livestock keeper can lose their livelihood and the many years of stock. The pet owner risks losing a much loved member of the family and also hundreds, if not thousands, of pounds in compensation to the victim. As a full-time North Wales Police Rural Crime Officer, my advice to pet owners is: know your breed and its requirements, secure your boundaries (most attacks come from escaped dogs) and use a lead when out in areas you suspect livestock is present."
Merfyn Roberts, Senior Agent at NFU Mutual in North Wales, added: "As the insurer of three-quarters of the UK's farmers, we are sadly all too aware of the heartbreak and distress that dog attacks cause. For small farmers in Wales in particular, livestock worrying is devastating because it has a huge impact on their productivity. While insurance can cover the cost of replacing stock killed and the treatment of injured animals, there is a knock-on effect on breeding programmes that can take years to overcome."
With many families expected to visit the countryside over the coming months, the insurer is urging dog owners to keep their pets on a lead at all times in the countryside and for people to report out-of-control dogs to a local farmer or the police.
Read our Business Guide on livestock worrying here
Members can obtain English or Welsh livestock worrying signs from their local group office, or if you are not a member with NFU Cymru, visit our shop to purchase the signs.
NFU Cymru advises walkers to keep dogs under close control or on a lead when walking in the countryside where there may be livestock - see our Love Your Countryside page for more...