NFU farm safety policy adviser, Tom Price, explains more and outlines how every NFU member can take part from the 16th July:
It is no secret that farming has a poor safety record. It is a record that can be changed and we all have a part to play in making this happen. Last year 29 workers lost their lives in farming work place incidents that in many cases could have been avoided.
See also: NFU Vice President Stuart Roberts introduces #FarmSafetyWeek and why it's so important to get involved - WATCH.
Safety is not just one week. Safety is something that should be in our minds every day we are at work. Farm Safety Week is a way to help move safety right up the agenda and set us up for a year of change and improvement. Farm safety Week is an industry wide focus on safety and how things can change in the United Kingdom and Republic of Ireland.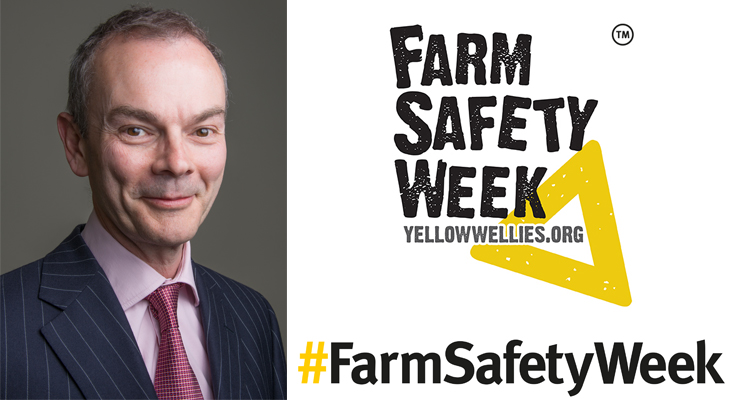 What is it all about?
The purpose of FSW is to:
Raise awareness of safety in farming
Highlight that agriculture is working to change the safety record
Share good practice and "what good looks like"
Raise awareness that health is not just physical health but also mental wellbeing
How can you get involved?
It is easy to get involved and be part of changing our industry. Look at your farm and find one thing to change this week. Your change might be something relatively simple and cheap to do like:
Tidying up the yard to remove rubbish that could be a fire hazard
Wearing hi viz to make yourself visible and reduce the risk of being run over
Putting safe stop stickers in every cab as a reminder to follow the procedure and stop farmers being run over and killed or injured by their own vehicle
It might be more involved, such as:
Completing a risk assessment
Getting professional advice such as provided by NFU Mutual Risk Management Services (contact your local Group Secretary and NFU office to find out more)
Getting your tractors and trailers brake tested at your local dealer (details of dealers able to offer this service is available here)

Share what you have decided to do:

Let us know by emailing here. "I am supporting Farm Safety Week by changing … on my farm."
Post on social media tagging in @yellowwelliesUK and @nfu_farmsafety and use the #FarmSafetyWeek hashtag.
Talk to your friends and neighbours. Tell them about Farm Safety Week and ask them to do one thing this week to make their farms safer and better places to work.
Little changes made every week can make a big difference within a year. Start today.