Retailer engagement at the Royal Welsh Show 2019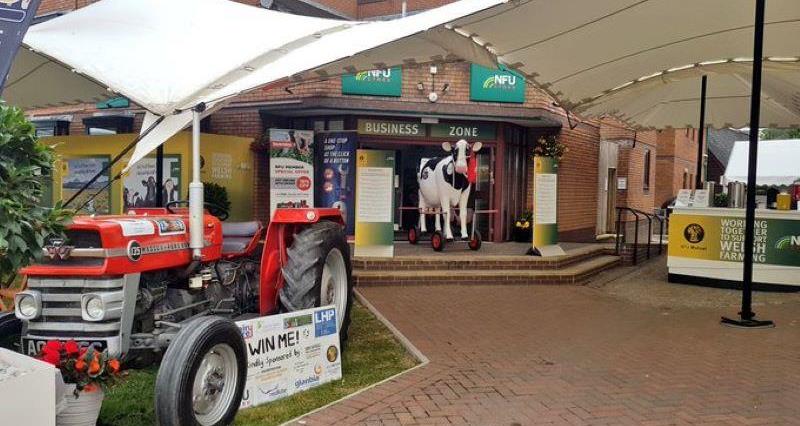 The NFU food chain team joined NFU Cymru board chairmen and NFU Cymru's Policy Advisor Dafydd Jarret at this years' 100th Royal Welsh Show, to meet with Tesco, Waitrose, M&S, Co-op and McDonalds.
Livestock
On the first morning of this year's Royal Welsh Show, the four farming unions, NFU, NFU Cymru, NFU Scotland and UFU called on the industry to help address the current falling beef price with the following asks;
The formulation of an intense and co-ordinated period of product promotion and innovation by retailers and processors to help demand for safe, high quality, fully traceable Red Tractor beef
All retailers and food service businesses must ensure their marketing on origin and sourcing is clear at the point of sale
NFU Cymru livestock board chairman, Wyn Evans spoke to retailers at the show about the current beef price crisis and the impact this is having to the many farming businesses across the country.
To help address the current beef crisis, we heard from retailers about a variety of disruptive promotional and marketing activity planned for the summer months in a bid to drive shoppers into the red meat category. Examples include;
Short notice turnaround on promotions, particularly at the weekend on BBQ and joint ranges
A variety of media promotional activity from instore billboards to social media and TV adverts
M&S also spoke about a 4 day TV campaign running the week after the show, on primetime slots on ITV. The TV advert will show a 'M&S Select' beef farmer talking about the high welfare standards he has on his farm. This will be accompanied with a chef demonstrating the versatility of the product.
In addition, retailers talked about the changing consumption habits of shoppers and the long-term effect this is having on the red meat category. Shoppers are looking for convenience when shopping and so new product development is focused on developing red meat products which are quick to cook and easy to prepare. Customers are also more aware about their health and are actively looking to buy products which are "healthier". Retailers are looking for opportunities to use red meat products to tap into these purchase drivers such as in store and on pack messaging around the health benefits of red meat consumption.
Visit the NFU Cymru livestock page here
Dairy
Michael Oakes, NFU Dairy Board Chairman and Gareth Richards NFU Cymru Dairy Board Chairman met with retailers to discuss some of the current issues facing dairy farmers including bull calves schemes, Net Zero, dairy contracts regulation and sourcing policies.
The Co-op (who sell 100% Welsh own label milk in Wales) stated they are looking to recruit more dairy producers due to their recent acquisition of Nisa, which has increased their volume requirements. As part of the new acquisition, Co-op now supply Nisa stores, including Costcutter, Premier and Superdrug with own label products. This increases the reach of customers buying British food.
Discussions also included a key NFU's ask of retailers, which is to establish a sustainable cheese group. This would involve a number of dairy producers, aligned to the retailer, to supply liquid milk for cheese. This is a key area the NFU will continue to call for as part of our work to build better, fairer supply chains.
The use of soya protein within cow diets is a current focus for many retailers, who are looking for more sustainable sources. Discussions included how retailers are working with their aligned farmer groups to source sustainable produced soya for cow diets, including home grown feed.
Other areas of discussion included the NFU's Net Zero ambition and dairy contracts regulation. All retailers were keen to understand more about the NFU's Net Zero ambition and how the retail sector can play a role in working with farmers to achieve the ambition. Conversations will continue on how retailer supply chains can become more involved as this area develops.
We heard how animal welfare continues to be on customer's minds, with retailers receiving frequent customer queries on their policies. Our board chairmen discussed how retailers are responding to customers and what further work areas are needed to demonstrate the high animal welfare standards farmers are proud of. This included a discussion around the direction of travel for the industry to continuously improve on welfare standards.
Visit the NFU Cymru dairy page here
Poultry
Victoria Shervington-Jones, NFU Cymru's poultry board chairman and Tom Wornham, NFU's national poultry board chairman met with M&S and the Co-op to discuss some current issues facing poultry farmers including the better chicken campaign, egg promotions and grower groups.
In 2018 M&S signed up to meeting the 2026 European Broiler Ask (also known as the better chicken commitment) across 100% of its fresh and ingredient chicken lines. The commitment includes reducing the stocking density of birds down to 30kg/m², using slower growing breeds and increasing the rearing period to 56 days. During meetings with both M&S and the Co-op the NFU and NFU Cyrmu raised concerns over the commitment. Poultry meat farms in the UK already implement stocking densities that are far lower than EU requirements, there is a lack of recognition that antibiotic usage has declined by 80% in the past six years and advancements in bird genetics mean the birds are in the best health they have ever been.
Visit the NFU Cymru poultry page here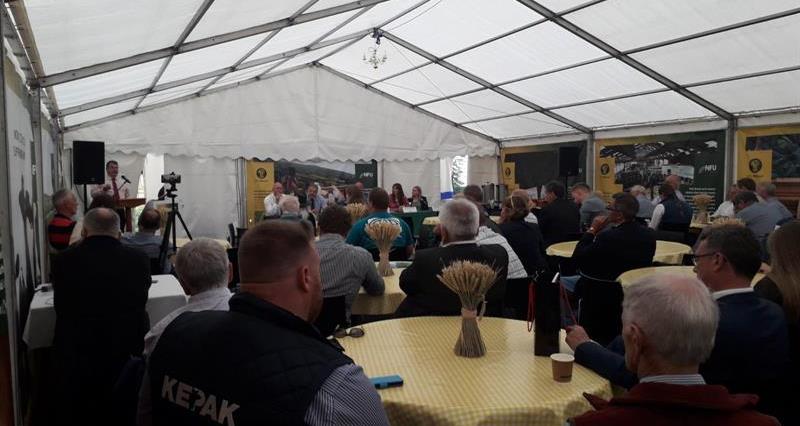 General
The NFU Chief Food Chain Advisor, Ruth Edge, joined a panel of experts including Caroline Mason, Head of Agriculture at the Co-op and Prys Morgan, Procurement Director at Kepak UK to discuss how we can ensure Welsh red meat is at the heart of the supply chain. Ruth spoke about the need for clearer origin labelling on menus within pubs and restaurants. This is critical in giving consumers transparency about where their food has come from and allows them to make informed choices.
We will continue to engage with retailers throughout the year on pressing concerns.