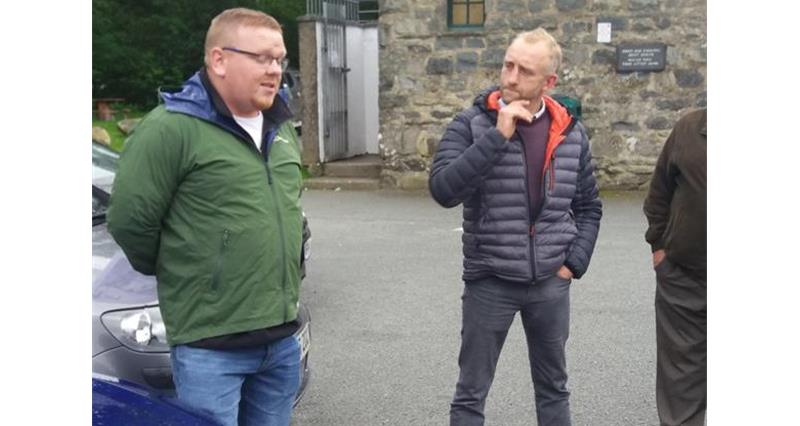 Meirionnydd farmers learnt more about the Celtic Rainforest project that is being managed by Snowdonia National Park Authority, as part of a European Union Life funded programme.
Gethin Davies, Senior Project Manager, explained how the £7.5 million project, which has been safeguarded over seven years, runs within the area of the old forests of Meirionnydd, which stretches from Beddgelert down to Dolgellau.
Of particular interest to farmers were the plans to promote managed grazing in the forests, together with the assistance of trying to reduce and eliminate Rhododendron growth within the area. The plan to control Rhododendron extends beyond the rainforest boundaries to include peripheral areas.
During the tour, members were guided around a typical rainforest above the village of Ganllwyd to see examples of how managed grazing has been used to improve the quality of the forest.
It was explained that it was the intention of the National Park to ensure that as much of the funding secured for the project could be spent and circulated in the local community to ensure that it brings environmental, social and economic benefits to the area.
Following the tour, a county meeting was held at Ty'n y Groes Hotel, to discuss policy issues together with a presentation on farm safety focusing on farm machinery in particular.
Gethin Davies said: "I would be delighted to hear from farmers who are within the project area who are keen to work with us to manage Rhododendron on their land, or if they have a rainforest they own."
He added: "We will be looking to commission contractors to carry out Rhododendron control over the period of the project, and we would welcome hearing from anyone who is qualified to do the work and would be interested in applying for a contract."
Emlyn Roberts, NFU Cymru Meirionnydd County Chairman, added: "It is good to see that there is an opportunity for farmers to contribute to improving the rainforests in the county and also of course there is an opportunity for some to consider being able to do the work as contractors for the park authority."
He went on to say: "I would also encourage members of agricultural families to follow the relevant courses through Farming Connect, so that they can consider adding to their income by applying for work as contractors to the project."