Cabinet Secretary for Education, Kirsty Williams AM, has joined farmers and school children to launch a Welsh language teaching resource educating children about the importance of food and farming.

Kirsty Williams AM visited Builth Wells CP School on Thursday 24 November to help launch the 'Why Farming Matters/Pam Fod Ffermio'n Bwysig' education packs produced by NFU Cymru and Farming & Countryside Education (FACE).

The education packs, now available in both English and Welsh, are designed to provide teachers with ideas and activities to help stimulate and foster children's interest in food and farming, encourage healthy eating and lifestyles, as well as encouraging pupils to think about where their food comes from. The resource, aimed at Key Stage 2 pupils, looks to weave the themes of food and farming through the curriculum areas of English, Welsh, maths, geography, science, art and design.

The new Welsh language teaching resource is the latest work to be released as part of the wider NFU 'Why Farming Matters' initiative, which has been raising awareness of the contribution made by agriculture to rural communities for a decade.

Kirsty Williams AM, Cabinet Secretary for Education, said: "This teaching resource is an excellent way to inspire and educate children about the many ways in which farming supports our everyday lives in Wales, whether that be through food security, employment, the environment or the economy. It's great to see NFU Cymru and FACE working together to deliver an educational tool that helps teachers deliver the important themes of food and farming in to a variety of subjects across the curriculum through the mediums of Welsh and English."

NFU Cymru Deputy President John Davies, said: "We know that farming is the bedrock of rural communities in Wales and that the Welsh language makes a vital contribution to Wales' cultural identity. Many of our communities were built on agriculture, so it's important that we help protect and nurture the important traditions that play such an integral part of life in Wales. The NFU's 'Why Farming Matters' initiative has been highlighting the contribution that farming makes to rural communities for more than 10 years, and I'm really pleased that this latest work from NFU Cymru to also make these education packs available through the medium of Welsh will help further strengthen the ties between farming, the Welsh language and our rural communities."

NFU Cymru will be encouraging its members to make contact with their local schools and help distribute the education packs to teachers in their local area.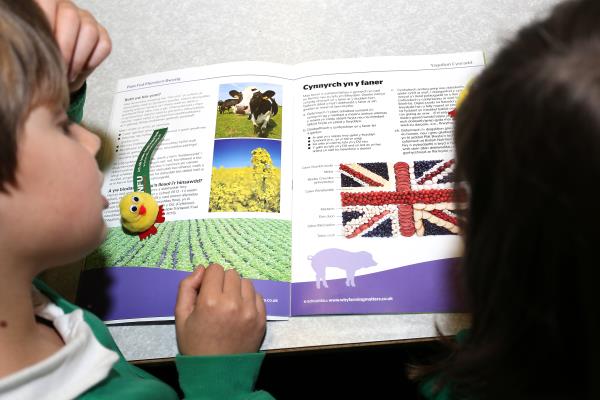 Jane Powell, FACE Coordinator for Wales, said: "Engaging children with farming is vital if they are to have an understanding of how food production, environmental conservation and economic activity all fit together, so that they can help build a world that can feed future generations. Farmers have a special role in the food system and this pack will help them to connect with schools and get their message across."

Gareth Cornelius, Head teacher at Builth Wells CP School, added: "It was a privilege to be able to welcome the Cabinet Secretary to the school today to help launch the 'Why Farming Matters/Pam Fod Ffermio'n Bwysig' education packs. I know the teaching staff have already been using this resource to incorporate food and farming message into lessons and these activities have been well received by pupils."

The English and Welsh language versions of the 'Why Farming Matters/Pam Fod Ffermio'n Bwysig' education packs can also be downloaded here