NFU Cymru County Adviser, Stella Owen writes...
Following the hugely successful NFU Cymru She Who Dares Farms conference held back in July, it brings a smile to my face to see everyone wearing and showing off their merchandise. The photos on social media have been superb… and it's pushed me to step into the Instagram sphere too.
The event was just all we could have wished for and more. The merchandise has absolutely flown off the shelves and what was once branded as the Stella sweat shop – has actually seen 100% of profits raised to go to The DPJ Foundation. At the time of writing over 500 items have sold, raising over £2,500 for The DPJ Foundation. And wait for it – we have now launched a children's version which is proving just as popular, with many forward looking mums, dads, godparents, aunts and uncles, stocking up for Christmas.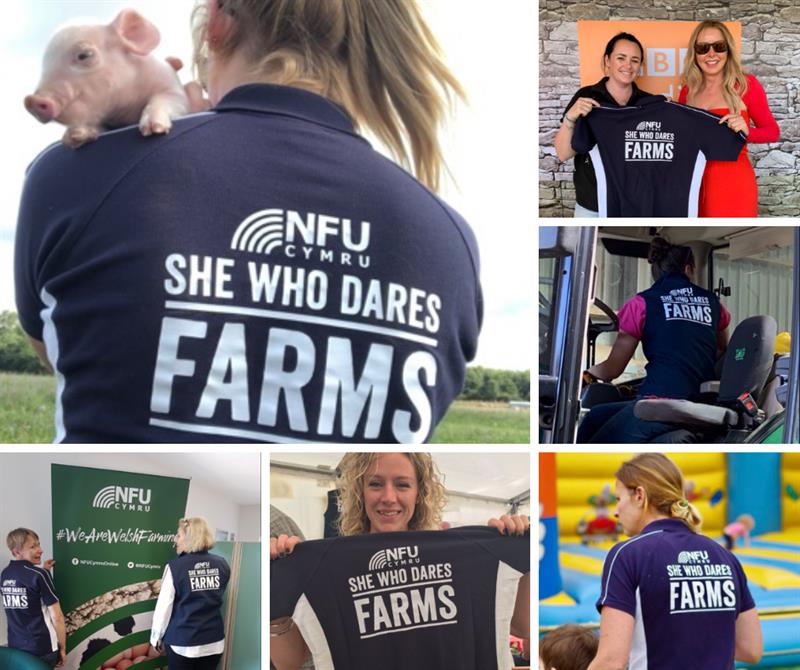 It has been simply phenomenal with merchandise reaching Scotland, Ireland, even Australia and New Zealand. What can be achieved with a snappy slogan! All in all I think the event has shown the energy and commitment of farming women and that has shone through with some excellent emails being sent to lobby AM's on important issues such as water quality regulations and the 'Sustainable Farming and our Land' consultation response. It's fantastic to be able to reach out to this resource within our membership who can help us continue our lobbying efforts. We want to represent every member of your farming business. She Who Dares Farms has been a great way to show you all what we do as a union on behalf of our membership.
So wear your merchandise with pride, come along to county meetings or events in your area and get involved. We really need to stand together now and your support has been tremendous. She Who Dares Farms merchandise is still available and you can order polos and gilets by emailing bmZ1LmN5bXJ1QG5mdS5vcmcudWs=.
A sincere thanks to you all, I am humbled to have been involved in the event and …. We will be back, watch this space!
The adult sizes are available on the form below: